English version below
2050, L'océan?
Inscription pour le Forum Mondial de la Mer – Bizerte
23 septembre 2022 – 5ème édition
📣A travers les quatre premières éditions et sous la présidence de Pascal Lamy, le Forum Mondial de la Mer-Bizerte s'est imposé comme l'un des rendez-vous maritimes principaux du sud de la Méditerranée à l'échelle internationale. Ce sont plus de cinq cents intervenants, représentant plus de quarante pays, et des centaines de milliers d'internautes qui ont fait du Forum de Bizerte un rendez-vous à la fois très attendu et « différent ».
Au-delà des réponses immédiates ou politiques, une réflexion prospective sur ce grand inconnu qu'est l'océan s'est imposée pour la cinquième édition du Forum Mondial de la Mer-Bizerte. C'est donc à Bizerte, la pointe la plus septentrionale de l'Afrique, que les meilleurs experts, scientifiques et créatifs se réuniront ce 🗓 23 septembre  2022 dans un format resserré, pour réfléchir ensemble à ce que sera l'Océan en 2050. 🌍🌊⛵
Une journée durant, ces intervenants présenteront le résultat de travaux engagés, pour certains, depuis plusieurs années. Scénarios, modélisations, hypothèses et chemins de transition permettront à partir de cartes, de graphiques et de statistiques d'imaginer, de prévoir et de se préparer à un futur incertain sur fond de multilatéralisme et de gouvernance contestés, de positions hyper dominantes, d'ambitions économiques et de profonde dégradation climatique à l'échelle globale.
Si l'exercice portera sur l'Océan global, y compris les mondes polaires, c'est avec la Méditerranée, terre d'accueil du Forum Mondial de la Mer-Bizerte, que cette journée pas comme les autres s'achèvera.
✍️ Pour participer, il vous suffit de vous inscrire, suivant le lien ci-après pour rejoindre le Forum en ligne : 👇🏻
https://forumdelamerbizerte.com/inscription/
🔴 Pour en savoir plus sur cette nouvelle édition, visitez notre site web: 
http://forumdelamerbizerte.com/  
⏳ Rendez-vous le 23 septembre à Bizerte
🔜Ne ratez pas cette occasion!
———————————————————————————————-

2050, The ocean?
Register to Forum Mondial de la Mer – Bizerte
September 23, 2022 – 5th edition – 
📣Through the first four editions and under the presidency of Pascal Lamy, the Forum Mondial de la Mer-Bizerte (World Sea Forum – Bizerte) stood out as one of the main maritime meetings of the southern Mediterranean at the international level. More than five hundred speakers, representing more than forty countries and hundreds of thousands of Internet users made the Forum de Bizerte a highly anticipated and « different » event.
Beyond the immediate or political responses, a prospective reflection on the great unknown, namely the Ocean, is the focus of the fifth edition of the Forum Mondial de la Mer-Bizerte. It is therefore in Bizerte, the northernmost tip of Africa, that the best experts, scientifics and creatives will meet on 🗓 September 23, 2022 in a tight format to reflect together on what the Ocean will be in 2050 🌍🌊⛵
For one day, these speakers will present the results of works completed, for some, for several years. Scenarios, models, hypotheses and transition paths will enable us; based on maps, graphs and statistics; to imagine, predict and prepare for an uncertain future against a backdrop of contested multilateralism and governance, hyper-dominant positions, economic ambitions and deep global climate degradation.
While the works will mainly focus on the global ocean, including the polar worlds, this day like no other will end with discussions on the Mediterranean, the host land of the Forum Mondial de la Mer-Bizerte.
✍️ To participate, simply register, following the link below to join the Online Forum: 👇🏻
https://forumdelamerbizerte.com/inscription/
🔴 For more details about this new edition, please visit our website: 👇🏻
http://forumdelamerbizerte.com/  
⏳See you on September 23 in Bizerte 
🔜Do not miss this opportunity!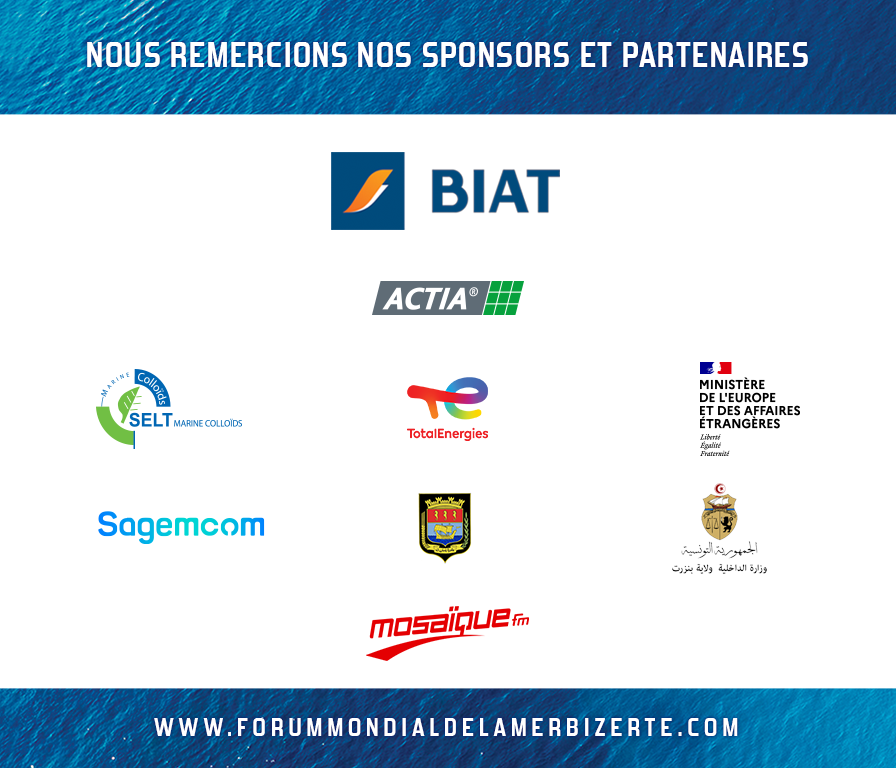 Subtitle
Instagram
Some description text for this item
This error message is only visible to WordPress admins